Message from the Dean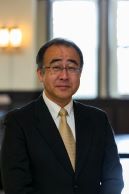 The Graduate School of International Cooperation Studies (GSICS) is a relatively new school at Kobe University, one of the oldest universities in Japan, having an established reputation for excellence particularly in the fields of social sciences. It was established in 1992 with the objective of fostering talented young people who have will to serve the international community.
Today we are faced with many serious global issues such as economic crisis, civil wars, climate change, and natural disasters. GSICS provides methodologies of Economics, Laws, Political Science, International Relations, Educational Development, and Disaster Risk Management to address these complicated issues. Students are expected to develop expertise in one of these fields, becoming conversant in the other fields at the same time.
GSICS has courses taught in Japanese and in English. International students from more than twenty countries make up fifty percent of enrolled students. We welcome motivated students who want to empower themselves through education and research here, and serve the international community.
YAMAZAKI Koji


Applicant Guidelines